Shipping to Ecuador from USA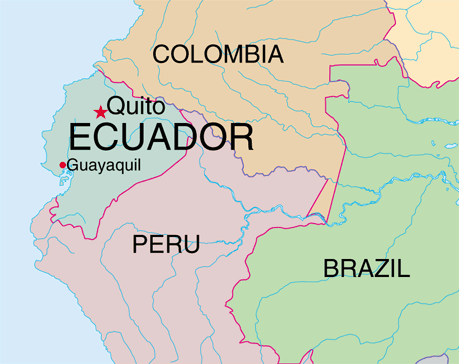 Shipping to Ecuador 
Whenever you need a quote for shipping to Ecuador, contact USG team and we will provide your quote accordingly! To start the process, we will ask you a few questions and your answers will lead us to provide you with the most competitive rate. 
You must provide us with the details of your request, such as the pick-up location, the final destination and the type of goods you want to ship. As your top provider for shipping overseas to Ecuador, we export anything from multi-container shipments to smaller packages to cars.
 Whether you are ready to send commercial goods to Ecuador or you wish to relocate there to live with your family, lean on USG Shipping to make it all happen. We handle commercial goods, household goods, vehicles, containers and much more when it comes to shipping overseas to Ecuador from the USA or Canada.
 If you are searching for affordable air freight shipping to Ecuador and container shipping to Ecuador, you will appreciate our team's thorough attention to detail and fair pricing. We have experience picking up shipments anywhere in the USA or Canada and sending them to Ecuador safely and efficiently. After getting all the necessary details from you, we can get your project started with a free quote. The shipment will need to go via Guayaquil. 
Get a response quickly in about an hour when you fill out our online quote request. 
 About Ecuador
Ecuador, a country in South America, is bordered by Columbia, Peru, and Costa Rica. The country's largest city, Guayaquil, is home to one of the main shipping ports. Other shipping ports include Port of Manta and Port of La Libertad. The country has many restrictions for importing commercial items; however, it is the land of many American, European and Canadian expats.
Shipping to Ecuador can be quite easy when using a professional logistics company like USG Shipping. We can help ship your cargo, checking all the country-specified rules, regulations and paperwork. By using our service for moving your cargo to Ecuador, you are guaranteed to have no issues with Customs in Ecuador as we make sure to check them all with you prior to departure.
Our service for shipping to Ecuador includes two main ports of entry of Guayaquil and Esmeraldas. With many years of experience in shipping to Ecuador, our freight services include:
- Shipping door to door to Ecuador
- Shipping to Ecuador from Canada
- Shipping from Ecuador to Canada
- Shipping from Ecuador to the US
- Moving to Ecuador
If you are currently based in Ecuador, you can also contact our agent, Joe Spott who is our long-time agent in Ecuador. You can also check with the Embassy of Ecuador in Washington DC.
Shipping to Cuenca
Cuenca is the main city and capital of the state of Azuayin Ecuador. It is also considered one of the most advanced cities in Ecuador and very retirement-friendly. The city has many attractions and historic sites to enjoy. With our own agent in Cuenca, USG is able to bring your goods to your door in Cuenca. There are many US citizens who relocate here for their retirement and we always make sure to provide them full door to door services for shipping their personal goods to Cuenca.