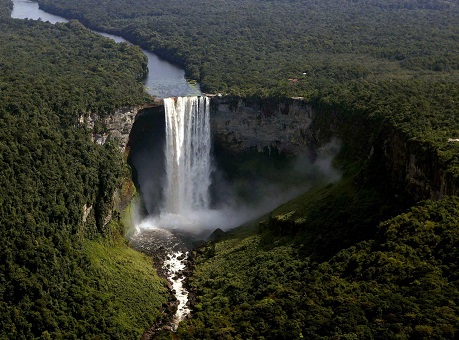 When it comes to shipping to Guyana, USG is an expert from the start to the end as we can offer door to door service! If you need to ship your car or other items to Guyana and would like to have a shipping rate to Guyana, you should send us an email or use our quote form request and   We will be quoting you within 24 hours.  For a shipment from USA to Guyana, our service could include the delivery of the cargo to your door in Guyana.
Sometimes, shipping requests to Guyana are for to US Military or government-related move but there are many other companies or people who possibly need to ship something to Guyana and here at USG we cover all.  You could be a US Military member or a company who has a contract with US government or a regular person moving to Guyana we will handle your shipment from the point of origin in the US to Guyana. The main port of entry is Georgetown but here at USG, we offer door delivery for some customers. Upon request and need of the extra service, we can work with a few shipping companies like Solomon and Duncan to maximize with the global shipping service!
Guyana is a small country on the northeast side of South America, it's one of the few Caribbean countries that is not an island. Guyana bordered by Brazil to the south, Suriname to the east and Venezuela to the west. Georgetown is the largest city and state capital of the country, which Cheddi Jagan International Airport and Port of Georgetown are both located. This can make shipping your goods much easier. USG Shipping Line can ship anything from documents, small goods, or vehicles. Quotes can vary depending on if you are shipping a Less Than Container Load (LCL) or Full Container Load (FCL), but we can help you check and choose which better fits your specific needs.
Shipping barrels to Guyana
There is a weekly consolidation service from our CFA terminals in the US to Guyana if you are planning to ship barrels.  One of the shipping companies in Guyana will handle the off-loading of the container and issue the delivery order for each client. There is a minimum number of barrels for less than container shipment and that is 3 to start with!  When shipping from USA you can deliver the barrels to one of our depots and from there we will take care of the rest of the process!
The current rate for shipping barrels to Guyana:
Shipping Car to Guyana
We offer consolidation services for shipping your cars to Guyana. The service includes the inland transportation of your vehicle in the US, delivery to the port or warehouse and ship to the port of Georgetown in Guyana. There is still a validation process for the vehicle but you can ship your car to Guyana even if there is finance on it.  There are ro-ro and consolidation container shipping for cars to Guyana.
Shipping to Georgetown: Special rates for Commercial cargo and Household goods, we can offer you from any place in the US to Georgetown port, we can help you with all your inquiries and paperwork. Any other information please contact the Guyana Embassy in Washington DC.  We work for one of the shipping companies in Guyana and upon request, we can let you connect with them for the destination part of the process.
Ready for shipping to Guyana, send us an email or give us a call!
Please follow and like us: