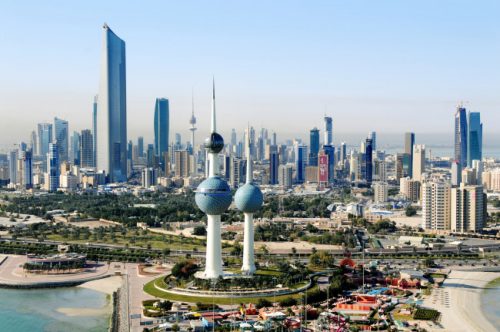 If it's the time for you to ship a car, container or other items to Kuwait and you need a rate better to contact USG team for a rate!  For the most part, shipping to Kuwait and clearing the cargo is quite easy but the challenge for shipping to Kuwait comes to some of the regulation that requires knowledge of freight and shipping! Kuwait has a 5-year-old restriction for importing cars; however, as a returning citizen, you can ship your household goods, duty-free, to Kuwait.  Here at, USG Shipping, we also offer door delivery to the US Naval Base in Kuwait.
The State of Kuwait is an Arab Country in Western Asia and it borders Iraq to the North and Saudi Arabia to the South.  With only 17,820 square kilometers of land mass, Kuwait carries one of the best Logistic infrastructures in the Middle East. The two major ports of entries in Kuwait are Shuaiba and Shuwaikh.  We also can deliver your cargo to Kuwait City.  The Port of Shuaiba is usually used for military and government project, however, some carriers have their own docks and can accept any type of cargo.

Shipping Car to Kuwait
We offer Roll on Roll off (Ro-Ro) and container service for shipping your cars to Kuwait.  The Kuwait Customs has placed a 5-year-old restriction of car importation, however, that is subject to some exceptions and students can ship one car to Kuwait with no age restriction.  Classic cars do not meet this age restriction but the most important factor in shipping vehicle to Kuwait is to make sure your car is not salvaged or has a salvage title. Our comprehensive vehicle solution caters to businesses and dealers, students, expats, and Kuwaiti residents who are moving abroad. You can either choose to pack up to 3 vehicles in a 40 feet container, 2 vehicles in 40 feet container, or 1 vehicle in the 20 feet container if you prefer containerized shipping service. If you prefer roll on roll off we can ship your vehicles in that way as well. For expats, students, and residents moving back to Kuwait we offer mixed load container where you can pack your goods, personal effects, and misc items along with your vehicle. Please contact us with the details of your inquiry and we will make sure to give you the most competitive prices.
The rate for shipping a car to Kuwait :
Mid-Size or Small car: $1695
Large SVU: $1985
Shipping container and Ocean Cargo to Kuwait 
Port Shuaiba: Mostly used for government, military, and associated project cargo. US Flag vessels using this port for shipping US military cargo.
Port Shuwaikh: The nearest port to Kuwait City and best for a cargo of all kind as long as items inside the container.  The port is usually congested and storage charges are very expensive so consignee needs to clear the cargo within free days to avoid heavy demurrage charges.
Air freight to Kuwait
The Kuwait International Airport (IATA: KWI and ICAO: OKBK) is in Farwaniyah Kuwait. It is about 10 miles to the south of Kuwait City.  USG Shipping offers daily flights to Kuwait with quoting depending on the Airline, Volume, Weight, and Commodity of your cargo.  Please contact us with the details of your inquiries and we will make sure to give you a quote, along with the flight schedules.   The Air Freight rate to Kuwait calculated base on the chargeable weight of the cargo along with the pickup and type of the cargo.  We offer door to door delivery for air freight to Kuwait if the weight is less than 150 lbs.  Not only we offer door to door for air shipping to Kuwait, but also honor our rate for shipping to Kuwait from the US for 30 days.  For shipping by air to Kuwait, we use either  Airlines or  Freighters and  USG offers very competitive rates for your Kuwait air cargo requests.  For your Air Cargo to Kuwait, we have few options as far as Airlines or Freighters and offer a daily flight for international shipping.

Shipping Boxes to Kuwait by LCL Ocean freight & Air freight: USG Shipping offers a full door to door services for shipping your boxes to Kuwait.  For military orders, we can ship the boxes to the naval bases in Kuwait.  For any other inquiry, we have Ocean Freight and Air Freight.  Our Ocean Freight delivery terminal is in Kuwait City. If you have commercial cargo that is not enough to meet a full container load (FCL) we offer a complete door to port service partial loads (LCL) from all major port of exits in the USA. You also have the flexibility to ship your cargo directly to one of our LCL warehouses. Upon receiving shipping confirmation we'll be able to place it on next available vessel which sails out weekly from all major US ports. The same type of service is also provided for individual customers who are looking to ship partial load by ocean instead of booking a full container load. Please be sure to have dimensions of your boxes, pallets, crates,etc.. ready prior to requesting quote since LCL shipments get rated by volume of the cargo we'll need to calculate your volume accordingly so you can get a rate quote that is competitive and accurate.
For Air Freight, we have two shipping options that are differentiated between Airline cargo and small boxes shipment through major courier services like FedEx, UPS, and DHL. If your boxes and items are below 150 lbs we are able to offer a complete door to door shipping at a discounted rate through one of the major international courier services. Our small package shipments also offer US address for clients who are buying products, parts, or gifts or commercial cargo from online and other suppliers. You can purchase and ship it directly to our address, and upon receiving shipping confirmation we'll ship your cargo in an expedited manner to the destination of your choice. If you have the dimension and piece count ready for your small package, we can even complete your transaction the same day and ship it out the same day for the door to door service. The 2nd option for airfreight cargo is to move it by airline cargo. This option is reserved for cargo weighing 150 lbs or greater. We have contractual discounted rates with most major international airlines, thus ensuring you're always getting the most competitive rates to your particular destination. With our airline cargo service, we are able to handle a large volume of freight shipments for a commercial and individual account. In addition to commercial freight services, we also offer comprehensive project cargo solutions for trade shows, government project, and procurement projects.
الشحن الى الكويت
 الشحن من امريكا الى دولة الكويت و بالعكس
خبرة في شحن العفش و السيارات و البضائع بمختلف انواعها
الى جميع موانئ و مطارات الكويت
شحن الى مطار الكويت الدولي
ميناء الدوحة ميناء الأحمدي ميناء مبارك الكبير ميناء الشعيبة ميناء عبد الله ميناء الشويخ
Need a rate for shipping to Kuwait, send USG an email or give us a call!
Please follow and like us: