Shipping to Spain from USA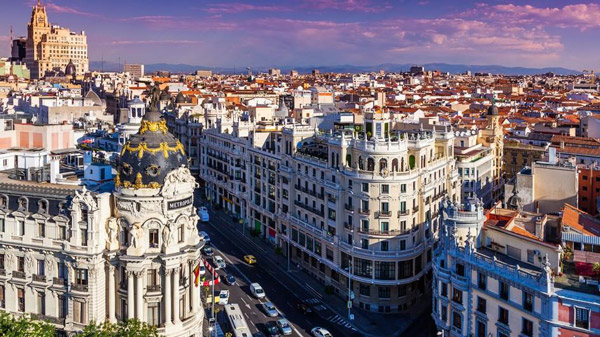 Shipping to Spain 
Do you need a door to door shipping from the USA to Spain? For affordable shipping overseas to Spain, choose USG Shipping today. That's because we are the premier provider of container shipments of all kinds and sizes. We can also help if you need to ship a package via air freight to Spain. We specialize in shipping goods from the USA to Spain, exporting anything from multi-container shipments to smaller packages. 
 We can cover you with convenient air freight shipping to Spain and container shipping to Spain, no matter what your requirement is. Thanks to excellent attention to detail and incredible pricing, USG Shipping makes air freight and ocean shipping super simple. For FAST pricing and response within an hour or two, complete the quote request above.
We just need the pick-up location, final destination and the kind of goods you're shipping. We will pick up your shipment anywhere in the USA or Canada and send it to Spain safely and efficiently. USG Shipping is your trusted shipping provider!
 About Spain
Spain, situated in Southern Europe, is bordered by Morocco, France and Portugal, is one of only three countries to span both the Atlantic and Mediterranean coastlines in Europe. Spain has major ports throughout its mainland and islands, making it ideal to ship your cargo here by air or ocean freight.
Spain boasts a balanced trade economy with slightly more imports than exports at $300 billion and $270 billion, respectively. The top import commodities for Spain include cars and car parts, packaged medication, refined petroleum, and commercial trucks. Spain's largest exports consist of autos and auto parts, crude petroleum, packaged med, cation, and petroleum gas. 
Ocean Freight to Spain: Ocean freight to Spain is simple when using the correct freight forwarder. Here at USG, our team can assist you with getting a low quote. We offer shipments to all the major ports located around Spain (see list below). Cargo services include Consolidation, Container, Roll-on-Roll-off (RoRo), and Vehicle Transportation. 
We have containers available for commercial goods and personal effects. USG can help you ship your car and household goods if you're moving to Spain. We transport your cargo from anywhere in the US to your final destination in Spain. Please feel free to contact us for more information and quotes.
USG Shipping offers comprehensive Full Container Load (FCL) and Less Container Load (LCL) from all major US ports to all major Spanish ports. We cater our ocean freight services to the needs of our customers, whether they are commercial accounts or individual accounts. Our services are divided into commercial accounts, Individual and households, small businesses, government, NGOs and enterprises. If you're looking to move to Spain from the US, we can offer you complete door to door service for your household goods, furniture, vehicles, and other items. If you're conveniently located near one of our major warehouses across the States, you may bring your items to our facility and we can pack them for you there. If you have a single vehicle that you would like to ship, we can handle it via Roll on Roll off service or we can pack it for you in a private container with your HHG or the vehicle by itself. 
Our dedicated staff manages large shipments of consistent volume from various manufacturers and suppliers across the states. Our intermodal and transportation network covers even the most remote location in the USA to ensure you're never without an option. We offer complete FCL door to door moves for various commodities, such as food items, auto parts, medical equipment, petrochemicals, machinery, and general store door merchandiser.
To complement our FCL ocean service, we also offer LCL services for business accounts who have small pallets or skids that are not big enough to fill a full container; thus, we move it by our dedicated weekly LCL service. In addition to our containerized ocean freight services, we offer breakbulk, project cargo, and large scale relocation for governments, enterprises, and various businesses. If your products and commodities cannot fit in a container, we can move it via break bulk, flat rack, or roll on roll off service. 
The main ports in Spain are:
Shipping to Barcelona
Shipping to Algeciras
Shipping to  Bilbao
Shipping to Valencia
Air freight to Spain: Shipping by air to Spain is perfect for your time-sensitive cargo. We can have your cargo picked up, at your door, and delivered to your door in Spain within 10 days. We also have our express option available with 3-5 days of transit time for your international deliveries. Contact us for a competitive quote for air freight to Spain. 
Simply provide us with the dimensions, weight, zip code of the pick-up location in the US, and the postcode in Spain. One of our representatives will handle your quote. Our air freight service covers anything from a few pallets and boxes to an entire chartering of airline cargo. If you're a manufacturer or a supplier who has consistent shipments to Spain, look no further than USG. We provide a one-stop solution for all of your shipping needs. Through our various logistics networks, we can provide complete door to door service for your commercial items to ensure your timely deliveries and deadlines are met. In addition to our commercial air freight service, we offer large scale relocation for performers, trade shows, and specialized event moves.
We also complement our air freight service with our small box express service for individuals and businesses who have cargo that is too small for freight shipment. If your cargo is below 150 lbs., it will fall under the small box express service. This service consists of a total door to door moves from any point in the US to any point in Spain. Our contractual agreement with FedEx and DHL allows us to offer you a rate that you cannot find anywhere else. Whether you're moving to Spain or you're buying a gift for loved ones, give us a call with the dimensions of your product and we can give you a same-day quote and same-day shipment. 
International Airports in Spain:
Madrid Airport
Barcelona International Airport
Palma De Mallorca Airport
Malaga Airport
Commodity and Manufactured Goods: 
The trade between two western developed industrial nations is bound to be dynamic. Not surprisingly, the trade between the US and Spain covers a variety of industrial, manufacturing, and agricultural sectors. Our experience in handling commercial shipments gives us a unique ability to handle specialized commodities for farmers, manufacturers, and heavy industries.
Whether you're a corporation who has a consistent amount of manufacturing parts and goods that need to be exported or you're a farmer who is shipping their goods overseas, you'll find US General Shipping's comprehensive service to be competitive and all-encompassing. We provide a dedicated service for agricultural shipments. We also work with equipment manufacturers, part wholesalers, and commodity exporters to ensure their exports are handled and managed in the most efficient manner possible. 
High & Heavy, Break Bulk, & Project Cargo: US General Shipping provides specialized service for oversize cargo such as break bulk, heavy machinery, and large industrial grade equipment. We understand that moving incredibly large equipment requires multiple carefully-planned, interdependent logistics steps. For many, this is a challenge to ensure all things go right when you're under deadlines and time constraints. We at USG Shipping have been handling many complicated projects since our inception; consequently, we have developed a wide array of logistics networks consisting of transporters, 3PL, carriers, and suppliers.
Our unique network allows us to handle high and heavy cargo from any origin for export. Whether you have a large industrial scale crane, Caterpillar machinery, or a bulldozer, USG Shipping can get the cargo moved in a convenient and time efficient manner. We provide three to four different options for moving high and heavy items. Some cargo can be moved via open top container or flat racks. Some cargo requires dismantling and containerization while others can be moved as roll on and roll off cargo.
Regardless of the challenges associated with moving large equipment and cargo, you can rest assured our team of professionals will do an excellent job on your shipment! Call for a quote today.