USG Shipping Line been operating in Ghana for several years and has provided high-quality services for exporting cargo to Ghana. Ghana has few operative ports however most of the requests are either for Tema or Takoradi. Some carriers also offer the on carriage service to Accra which is the capital of the country. Ghana is a very strategic location in the sub-region of Africa, bordered by Burkina Faso to the north, Côte d'Ivoire in the west, Togo to the east and the Gulf of Guinea to the South. With a dynamic and strong and few different loading warehouses all around the United States and Canada, USG shipping Line is able to offer you a very cost-effective and quality service for your shipment to Ghana. The general information about the import taxes and duty for shipping to Ghana is available at Ghana Customs Guide.
Shipping Car to Ghana
We offer the rate all-inclusive of $3450 for Shipping 4 cars to Ghana from Newark and Miami. This includes the loading, blocking and bracing of the cars into the 40 HC container. Adding some goods inside the cars will not change the prices however you need to check with us for any items that you may add outside of the cars. Remember that does not mean that your rate for shipping one car to Ghana is one-quarter of the 4 car shipping!  Car shipping to Ghana can also be done via roll on roll off service. The car gets picked up from any Copart or other auctions and taken to our nearest loading dock or port for shipping to Ghana. If you are going with ro-ro keep in mind that your car must be in run and drive condition.  The car must be fully paid with no lien listed on the title. 
The rate for shipping car to Ghana from the east coast:
Small and Mid-Size Car: $985
Large SUV: $1285
The inland charges for transporting a car in the US:
Dallas to Houston: $250
Charlotte to NJ: $450
Please see below our Autos Special rates for 4 or 5 cars :
Newark NJ to Tema: $3400.00
Houston TX to Tema: $3500.00
Long Beach to Tema: $4400.00
Please see below the list of the ports in Ghana where we offer shipping services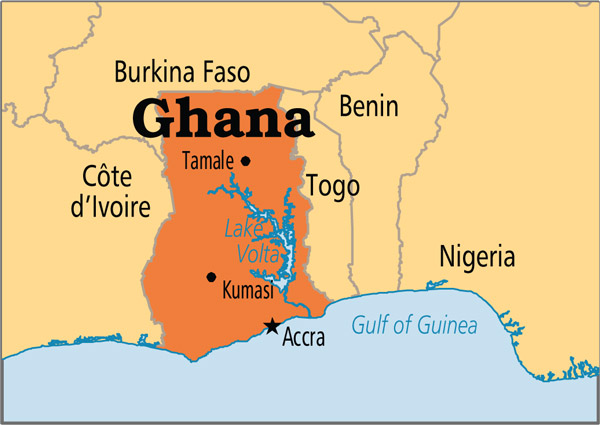 Air freight to Ghana 
US General Shipping offers Air freight service to Ghana. Kotoka International Airport (ACC) is the first international airport in the country. We can ship your items to Accra international Airport regardless of their weight and volume. We had experience of shipping luxury cars to Accra via Air.
See below some of the places where we offer direct or indirect shipping to Ghana:
Shipping to Ghana from New York: 
Due to very fast transit time, many Ghanaian West African shippers prefer to ship out of  New York. This is mostly to transit and cost of the shipping.  For a very long time, Ghana was one of the largest importers of the used cars in West Africa. Due to recent changes in the customs regulation, the volume of cars being imported had decreased however Ghana is still a very high demand destination. Please see below the major point of shipment to Ghana from the USA:
– New Jersey to Ghana
– Maryland to Ghana
– Atlanta to Ghana
– Dallas to Ghana
The importation to Ghana from the USA it has a direct connection with the exchange value and it will increase or decrease depending on that. Regardless of the volume, USG Freight will always give the same quality service for shipping to Ghana. We are not considering and do not want to be the cheapest shipping service to Ghana but we offer the most reliable service for this destination. USG is proud of being: 
– One of the top Shipping Companies to Ghana
– Cheapest Shipping to Ghana
– The contractor with most of the Carriers for Container Shipping to Ghana
– The door to Door delivery for certain cargo
Ship to Ghana is USG's expertise and we are among the best for the shipping container to Ghana and Shipping Cars to Ghana. Please send you your inquiry and one of our sales team will give you the quote accordingly.The Republic of Ghana is a West African country located along the Atlantic Ocean and the Gulf of Guinea. It bordered by Burkina Faso in the North, Togo in the East, Ivory Coast on the West and the Atlantic Ocean and the Gulf of Guinea in the South.
Ghana is one of the largest importers in West Africa. Here at USG Shipping Line, we offer shipping service from anywhere in the USA or Canada to Ghana in Africa. Automobile, Building Material, Heavy Equipment, and General Merchandises are the largest parts of shipping request to Ghana. Per Customs regulation Cars must be less than 10 years old otherwise face a higher amount of tax and duty.
Shipping to Tema
Shipping rate to Tema varies based on the origin of the shipment in the US! Tema is the largest port of entry in Ghana and it is one of busiest in West Africa. Tema located 16 miles away from Accra which is the Capital of Ghana. Port of Tema got opened in 1962 and besides handling Ghanaian imports and exports, it is also a transshipment port for the landlocked countries like Mali, Niger and Burkina Faso. About %80 of Ghanaian import and export get handled at the port of Tema.  Here at USG Shipping Line, we are taking all these details in consideration and built up a strong relationship with the carriers and Airlines who offer logistics service to Ghana.
USG shipping Line offers weekly shipping services from any Ports in the East or West Coast to Tema. We can use any carriers of your preferences for shipping your cargo to Tema. We have special Autos Rates for shipping cars to  Tema either if they get shipped containerized or Roll on Roll off.
Please see below our Special Auto Rates to Tema :
New York to Tema for 4 or 5 cars $3800.00
Miami to Tema for 4 or 5 cars: $3900.00
Houston to Tema for 4 or 5 cars: $3900.00
Long Beach to Tema for 4 or 5 cars: $4600.00
Shipping to Takoradi:  Takoradi is the capital of Sekondi Takoradi Metropolitan District. It is on the western side of Ghana. Port of Takoradi is the second largest port in Ghana after Tema. Port of Takoradi handles about %50 of Ghanaian Export.f USG provides the full container and Air freight shipping to Takoradi. The rate for shipping to Takoradi is usually a few hundred dollars higher than Tema depending on the origin of the shipment. Most of the carriers are offer shipping service to Tema but they are few carriers with ocean shipping Service to Takoradi. With all of our networks and contracts, we are able to offer you a very competitive rate to Takoradi.
You can send us your request for shipping to Takoradi and we will make sure to offer you a very competitive rate. 
2019 Update: Ghana has implanted a new regulation which requires the shipper to have the CTN number listed on the Bill of Lading. Such needs to be done before departure. This regulation is mandatory for any shipment from the US and Canada to Ghana. The regulation applies to all ocean shipment either if you like to ship a container or less than a container.
If you need to know the cost of shipping to Ghana please send us an email or give us a call!
Please follow and like us: