Shipping to Thailand from the USA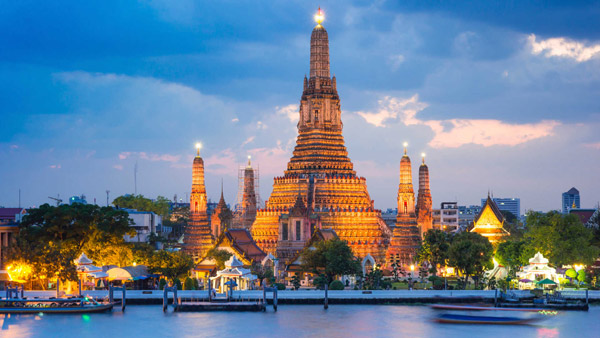 Shipping to Thailand from the US
Are you in the middle some sort of business transaction with Thailand where you need to ship goods to Thailand and require the assistance of a Shipping company fully aware of all the details?  As our previous years' report confirm you are in the right hand with USG!  We have shipped almost 500 TEU in 2016 and over 600 TEU in 2017 to Thailand.  When contacting us for a shipping quote you will be surprised by the knowledge of our team.  We understand that it is a similarity in the name of the port and customs yard in Thailand but we make sure to ask and confirm where exactly your container needs to be shipped. 

About Thailand  
Thailand (Kingdom of Thailand), this country is bordered to the north by Myanmar and Laos, to the south by the Gulf of Thailand and Malaysia, to the east by Laos and Cambodia, to the west by the Andaman Sea & the southern extremity of Myanmar, This country is at the center of the Indochinese peninsula in Mainland Southeast Asia.  The capital of the country is Bangkok and that an ultramodern cityscape rises next to quiet canal and riverside communities. The business hubs such as Chinatown consist of labyrinthine alleys crammed with shophouses, markets, and diners.
Shipping to Thailand by Sea:
There are multiple receiving terminals in Thailand. It is very important to provide the specific terminal name when requesting quote or booking to make sure the container will be delivered to the place where your consignee has the facility to clear the cargo.  Bangkok has multiple terminals but if you are shipping to Lat Krabang you should clearly ask for that terminal because container can end at Bangkok International where the customs will be handled by a different team and their understanding of the rules could be totally different than the one in Lat Krabang.  US General Shipping offers you services Door to port for either 20' ST or 40' ST/HC Container from any location in the US to Thailand. Also, we can offer you Door to door services for shipping by sea to Thailand, but this will depend on the cargo and Agent's confirmation.
Shipping to Bangkok: USG Shipping Line provide accurate rates and reliable operations for all the shipments to Bangkok, we ship commercial cargo, Autos, Auto parts, Dangerous goods, Personal effects, and Household goods, for import rules and procedures please contact local customs in Bangkok.
Shipping to Port of Laem Chabang: USG Shipping Line also offers shipping services to Laem Chabang Port for all the commodities mentioned before.
Air Freight to Thailand
USG Line has contract services with the biggest airlines to move your freight from any location in the USA and Canada with the best transit times and schedules. Suvarnabhumi Airport, also known as Bangkok International Airport, is one of two international airports serving Bangkok, Thailand. The other one is Don Mueang International Airport. Chiang Mai International Airport is an international airport serving Chiang Mai, the capital city of Chiang Mai Province in Thailand. It was established in 1921 as Suthep Airport.