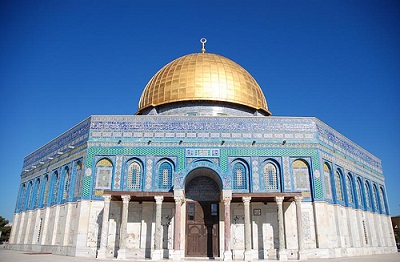 Shipping to Israel
Planning to ship a container to Israel from the USA? Lean on USG Shipping to get it done for you. We have competitive rates and an easy process that gets your order going quickly and efficiently. Do you need to ship a package via air freight or ocean? Don't worry, we have convenient air freight shipping to Israel and container shipping to Israel that can get your goods to their destination fast. Our specialty lies in shipping goods from the USA to Israel, as we export anything from packages to multi-container shipments. To get prompt pricing, fill out the quote from above. Simply enter your pick-up place, the destination and the type of goods you want to ship. We'll get back to you within an hour. Let us pick up your shipment anywhere in the USA or Canada! We also offer door to door services. Ready to learn more about shipping overseas to Israel? Get in touch with USG Shipping, where we make air freight and ocean shipping a breeze.
Shipping container to Israel: Haifa and Ashdod are the two receiving ports in Israel where you can ship a container to from the US. Haifa is the largest city in Israel as well as the center of import and export of the country!   For larger volume and weight, container shipping is the cheapest and best way to ship to Israel and that covers all kind of cargo as long is fit into the container. The cost of shipping a container depending on the details of your request, size of the container, inland trucking and other possible services that you may need.
All shipments to and from West Bank (Palestine) must go through Israeli Customs authority by default. In addition to providing comprehensive shipping and logistics solution to all major ports in Israel, we offer shipping services to West Bank via Ashdod, Israel. Our network of agents can handle customs clearance and transfer of goods from Ashdod port to West Bank. We handle container and less than container shipments for Household goods, furniture, vehicles, and commercial goods to West Bank. In addition to our containerized shipments, There is also a comprehensive ro-ro shipment from all major East Coast ports and Galveston to Ashdod and Haifa, Israel.
Shipping Boxes to Israel: If you are looking to ship 50 lbs. or more to Israel please contact us, and we can offer you the rate based on door-to-door, door-to-airport, or door-to-port services. We offer a consolidation service to Haifa and Ashdod in Israel. We also offer ocean and air freight to Israel for shipping your boxes. The cost of shipping to Israel calculated per the volume, weight, and origin of your shipment. Our international express service to Israel includes door to door service for non-freight items such as small box and courier service. Whether you're a small business that needs to send packages or an individual customer who needs to send gifts for the holidays, contact us and we will handle your cargo from any point of origin in the USA (door) and ship it to Israel (door). Our contractual volume discount with FedEx and DHL allows us to offer this unique door to door service that you cannot find with other companies.
Shipping a car to Israel: Under certain circumstance and regulation, you allowed to ship your personal car to Israel. The roll on roll off service is available from East Coast but from West Coast car gets loaded in the container. To ship a car to Israel, you should have the original title for the export and clearance. Cost of shipping cars to Israel from some locations in the US.
| | | | |
| --- | --- | --- | --- |
| Loading dock | Number of Cars | All IN RATE | Transit time |
| Los Angeles | 3 | $4400 | 45 to 52 days |
| Houston | 2 | $2850 | 32 to 38 days |
| Baltimore | 1 | $1450 | 19 to 28 days |
Shipping personal items and household goods to Israel
With all the services listed above, USG will help you ship your goods to Israel via air or ocean. We offer moving services from your door to the nominated port in Israel with affordable rates as we do have direct contract services with different ocean carriers, and no middle companies that increase the value of the moving services. Our team will provide you with the rates and guide you step-by-step to successfully accomplish your move. Our agent has over 25 years of experience in clearing the customs and delivery of the container to your door.
Shipping to Israel is not a challenge when you hire a reliable and bonded company like USG Shipping. We have an extensive network of drayage companies that allow us to provide door to port service from any location in the USA via the closest port of exit. This specialized service allows you to pack your own cargo at your door according to your convenience and pace. We understand moving can be hectic, which is why our shipping process is streamlined and catered to your needs.
In addition to our Full Container Load (FCL) service from any point in the USA, we also offer comprehensive Less than Container Load (LCL) service for commercial and personal items. Sometime you might not have enough cargo to complete a container, but you need to move the goods nonetheless. Our comprehensive LCL service offers guaranteed weekly service from all major U.S. ports to Ashdod and Haifa, Israel. If you need a quote for your LCL shipment, please contact us with your dimensions and piece count, and one of our team members will assist you immediately.
Airfreight and specialized shipments from the US to Israel: One of our most popular shipping services from the U.S. to Israel is our comprehensive air freight and express air shipment coverage. We can move your commercial or personal goods from any point in the USA and transfer it to all major airports in Israel on a priority basis through airline cargo or FedEx and DHL. In addition to commercial air freight, we also provide comprehensive coverage of vehicle shipment via plane. We can move any car on a priority basis from LAX, Dulles, Miami, and Chicago. To complement our specialized vehicle shipping to Israel, we also provide import clearance, EPA, DOT paperwork and the exemption for imported vehicles from Israel for both ocean and air import. If you have a vehicle you would like to export to the USA as a temporary import, we can handle your import shipment from A to Z.
USG Shipping offers comprehensive service from all major ports and auctions for heavy machinery like excavators or bulldozers to any of the two major ports of Ashdod and Haifa. From the ports of Galveston, Jacksonville, Wilmington, and Baltimore, we offer RoRo service for heavy machinery and boats. For cargo that cannot be shipped by roll on roll off, we offer specialized dismantling and packing service for containerized shipping. Additionally, we can ship jet skis and motorcycles in 40'HC containers to Israel. We have a dedicated transport and logistics network that specializes in heavy machinery transport from dealerships and major auctions. Our team of professionals will ensure you get the best possible rate for high and heavy items.
Shipping to Tel Aviv:  USG Shipping offers air freight services to all the airports in Israel but the main airport in Tel Aviv which is also the capital of the country.
Regulations For Cargo to Israel:  Based on your status, you can ship your household goods free of duty to Israel. If you are moving to Israel, all your belongings need to be in your possession for at least 12 months, to ensure you are not importing anything for future sale (which would be subject to taxes and duties). Tax and duty rates are based on the costs (value), insurance costs, and freight costs of the items, or the "CIF value."
Please note: tools, instruments, camping, and sporting equipment are not usually duty-free but you can still ship them. You can ship most cars to Israel but certain types can't be imported. Cars are not duty-free. Depending on your status, you will have to pay taxes based in part on a percentage of the total value of the imported vehicle. You can use your U.S. driver's license for up to a year once you arrive in Israel, but you will need to get an Israeli license if you plan to stay longer.
To avoid any complications for your cargo before importing items to Israel, please always check the Israeli Customs Website and also contact them locally to attain all the information, as far as to import regulation and tariffs. Shipping cargo, moving furniture, car, vehicle, and relocation to-and-fro Israel and USA. You can also contact the Israeli's embassy in Washington DC, and they will provide you with any other requirement for a shipment from the USA.
The rules and regulations regarding cargo shipping to Israel will vary upon your status. Some of the statuses of people shipping to Israel include Oleh Hadash, Katin Hozer, Ezrach Oleh and Toshav Hozer. Rules for shipping your freight are therefore associated with your status.
For example, those with Oleh Hadash status may import a variety of items tax-free, such as two computers per family and furniture for household use. As an Israeli citizen who has not been in Israel for more than six years may have Toshav Hozer status, which affords them certain tax discounts on shipping cars to Israel.
Restricted Items for Shipping to Israel:  Some items are prohibited from importation into Israel, such as weapons, drugs, alcohol, and plants. All printed material such as books and pictures, or anything that contains data such as films, tapes, movies, video, DVDs, computer software and CD-ROM/flash drive, need to be packed together and easily searchable by customs officials.  It is helpful if you pack all these things together with a detailed inventory list.
Commonly exported commodities and products from the USA to Israel 
Israel, in the Middle East subcontinent, shares borders with Lebanon, Jordan, Syria, Egypt, Gulf of Aqaba, Red Sea, Palestinian Territories, and the Gaza Strip. The USA and Israel have a combined trade volume of $47.1 billion USD, thus making Israel not only one of America's closest political and military allies, but also an essential trading partner. The U.S. and Israel have had a mutual free trade agreement (FTA) since 1985. Ever since the implementation of FTA, the trade volume has increased and continues to grow in an upward trend. Below are the most commonly exported commodities from the US to Israel (2017).
Precious metal and stone export ($5.0 billion )
Machinery export  ($1.4 billion)
Aircraft export  ($1.2 billion)
Electrical machinery export  ($989 million)
Optical and medical instruments export  ($643 million)
Total agricultural export ($545 million)
Israel has a strong economy, boasting $61 billion dollars in exports and $66 billion dollars in imports. The top exports for Israel are:
Diamonds
Packaged Medications
Refined Petroleum
Medical instruments
Please send us your request for shipping to Israel and we will provide you with the most competitive rate along with all other helpful information!
Please follow and like us: