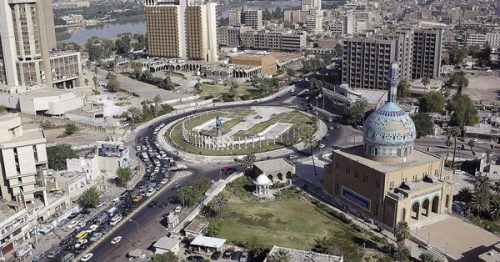 If it's time for you to ship a car or container to Iraq and need a shipping rate, feel free to contact the USG team. USG Shipping Line provides shipping service by the container, roll on roll off, project cargo, military and diplomatic cargo to Iraq. Basra in the south is the only seaport in Iraq. When shipping to Iraq by Ocean, the cargo first goes to Umm Qasr, from where it can be transported to Baghdad or any other cities in Iraq. The port of Umm Qasr has multiple docks and can receive any type of commodity. With over 2.2 Billion Dollars, Iraq is the 59th trade partner. Machinery, Vehicles and Medical Equipment are some of the commodities that we are shipping to Iraq. Please check the updated import regulations at Iraqi Customs.
The shipping rate to Iraq decreased during the last 2 years. Our Freight Services to Iraq include:
– Commercial Freight to Iraq: All kind of commercial shipment from the US or Canada
– Shipping Cars to Iraq: The cars will be loaded into the 20, 40 or 45 footer
– Shipping Container to Iraq: 20, 40, 45 dry and also Flat Rack and  Open Top
– Cargo to Iraq: Any type of commodity
We can also ship to Iraq from the north side of the country by using the port of Mersin. Most of the industrial infrastructures are either based in Kirkuk or Basra. For shipping to Kirkuk, we recommend you to use our trucking service from Mersin. To freight cargo to Iraq, USG goes to different cities. See below the cities where we offer Ocean Freight to Iraq:
Airfreight to Iraq: Please see below the list of International Airports in Iraq. Regardless of the volume, weight, and commodity of your shipment, we can pick up, pack and ship your boxes to one of these Airports.
At this time, we ship to Baghdad International Airport.
| | | |
| --- | --- | --- |
| CITY | Airport Name | IATA |
| Al Najaf | Al Najaf International Airport | NJF |
| Baghdad | Baghdad International Airport | BGW |
| Basra | Basra International Airport | BSR |
| Erbil | Erbil International Airport | EBL |
| Mosul | Mosul International Airport | OSM |
| Sulaimaniyah | Sulaimaniyah International Airport | ISU |
We are working closely with few Oil Industry Equipment Suppliers and understand that sometimes the cargo needs to be delivered at the earliest possible. Shipping to Iraq via Air with affordable rates and daily service, from door to airport services, fast and reliable services for moving, our Air Team will provide you the best rates and complete information about the process from the pick up to the delivery, we help you to do your shipping a good experience.
Shipping boxes to Iraq: Here at US General Shipping, we offer a full door to door or door to airport services for shipping your boxes to Iraq. Due to the situation in Iraq, we don't offer door delivery to all the area in Iraq. Please contact us for more details.
Iraq is a western Asia country, bordered by Turkey to the North, Kuwait on the Southeast, Iran to the east, Jordan to the southwest, and Syria to the West. Baghdad is the country's capital and largest city. It's conveniently located at the center of the country. The main import products of Iraq are food, medicine, and manufactures.
Cargo to Iraq: To ship to Iraq, you need to contact the Customs and make sure that your cargo is not a restricted commodity. Our air cargo service covers Baghdad and Basra in Iraq. Please see the list of the items prohibited in Iraq:
Any items that could be offensive to the Muslim and Iraq culture or sensitive to the Middle East area security situation are prohibited. These include pork products, religious publications, imitation firearms, paraphernalia, military uniform, or Quranic verses. All prohibited items received will be subject to heavy Customs fines.
Alcoholic beverages
Playing cards
Pornography
USed Vehicle unless for personal use and approved permit
Soil samples
Before you purchase any items that you are planning to ship to Iraq,  better to look into the regulation and also the Customs Duty making sure it will be a profitable transaction.
Shipping to Umm Qasr: Umm Qasr is a port city in the South of Iraq. The city is separated from Kuwait by a small inlet. It is the second-largest port of the country after Basra. USG Shipping Line offers full container and consolidation services from any locations in the USA or Canada to Umm Qasr. Once the container arrives in Umm Qasar you need to contact our agent in Iraq and ask for the delivery order and make sure to locate your container at Umm Qasr Container Terminal. Compare to other Shipping lines to Umm Qasr, USG is offering very high-quality service.
We offer container, oversized, hazardous and roll on roll off shipping service to Umm Qasr.
Shipping Cars to Umm Qasr
We also have special Autos rates for Umm Qasr for containers.
– Shipping rate from Newark, NJ, Savannah GA: 4 or 5 cars in a 40 footer: $3150 and 4 or 5 cars in a 45 footer: $3450.
– Shipping rate from Miami, FL: 4 or 5 cars in a 40 footer: $3250  and  4 or 5 cars in a 45 Footer: $3500.
– Shipping rate from Houston, TX: 4 or 5 cars in a 40 footer: $3350and 4 or 5 cars in a 45 footer: $3500.
– Shipping rate from Long Beach, Oakland, CA: 4 or 5 cars in a 40 footer: $3450.
Please follow and like us: