Shipping to Sierra Leone from USA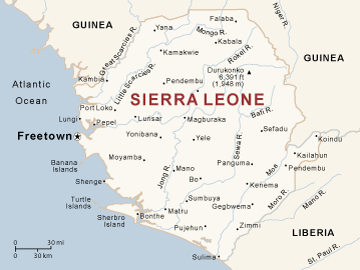 Sierra Leone is a country in  West Africa that is bordered by  Liberia to the southeast Guinea to the northeast, and the Atlantic Ocean to the southwest. Sierra Leone has about 800 km (497 mi) of  the Waterway. 
Please see below the major ports in Sierra Leon:
Shipping to Repel
Shipping to Bonthe
Queen Elizabeth Quay in Freetown is the only port of entry of Sierra Leone capable of handling large cargo. At this time USG shipping only offers shipping services to Freetown.
USG Shipping Line offers a very fast and safe shipping service to Sierra Leone. Per your request, we can either provide you the container by your door  for you to arrange the loading or we can also take care of the loading at one of our warehouses in the US or Canada. Because of their large community in Ohio and Minneapolis There are numerous shipping requests to Freetown from these locations. USG Shipping has special shipping rates to Sierra Leone for your shipment Originated in Columbus or Minneapolis.
As one of the Top Shipping Agency in Freetown, USG offer door to door service for contractors.
- Shipping to Sierra Leone from Columbus 
- Shipping to Sierra Leone from New York
-Shipping Cars to Sierra Leone
 USG contracts directly with the largest shipping  lines to Sierra Leone and we are among the best Freight Companies in Sierra Leone. Cargo Shipping to Sierra Leone requires a good expertise on the routing and regulations. Moving to Sierra Leone is also a part of our services. 

Please check the taxes and tariffs with the Embassy and Customs of Sierra Leone  prior of ordering containers. Cargo to Sierra Leone are subject to different taxes so you may better know everything before taking the action. 

New Regulation for Shipping to Sierra Leone starting April 2015:  The Government of Sierra Leone requires the ECTN number on the Bill of Lading.  At the time of departure the cargo needs to be register for the import permit.  CMA CGM will not load the cargo in the Vessel until this number is being provided.
To check all the latest regulation please contact the Embassy of Sierra Leone in Washington DC.