Shipping to Qatar from USA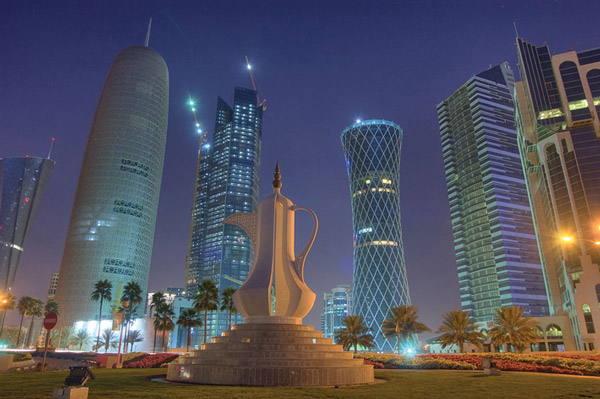 الشحن الى قطر
Qatar is an Arab Country located in Western Asian ,located on the small Qatar Peninsula in the northeastern coast of the Arabian Peninsula. It borders Saudi Arabia from the south and it is surrounded by the Persian Gulf.
The country is one of smallest countries of the region however one of the richest at the same time. There is a large volume of import to Qatar which will most likely increase due to the organization of the World Cup. Doha is the capital and the largest city and port of entry in Qatar. For Shipping to Doha, we offer both Ocean and Air freight to Doha.
Shipping to Doha:
Doha which means big tree in Arabic is the Capital and most important city in Qatar. It is the country's center of economy. The main port and Airport of entry are located in Doha. We have a weekly schedules for shipping to Qatar from US. We also offer consolidation services to Doha. Our rate for consolidation is based by the volume of your shipment. Our shipping services to Doha also include Roll on Roll off (Ro-Ro) and Over-sized Cargo.
Please send us your request by email and one of our agents will provide you the quote according to your needs. The Shipping rate to Qatar depends on the volume and also origin of your shipment in the US. Port
Please see our rate for Roll on-Roll off from West Coast to Doha:
Mid-size Vehicle: $1495.00
SUV: $1895
Air Freight to Qatar:
The International Airport in Doha is located in Doha and it is the only commercial Airport in the country. Doha International Airport ( IAT: DOH ) contains 60 check-in counters.
We offer a daily Air freight service to Qatar either via Qatar Airways or other International Airlines. We will coordinate the pickup of your cargo from any location in the USA or Canada and delivery to the International Airport in Qatar. If needed, we can also arrange door delivery in Qatar (Commercial Items only)
Air freight to Doha( International Airport) :
Daily direct flights

Shipping ATV by Air

Special World Cup: Due to the upcoming World Cup in Qatar and all the constructions ,USG Shipping offer special rate for any Shipping request related to this Project.
Shipping Car to Qatar:
There are many ATVs, Classic and Luxury cars that need to be shipped to Qatar. We can ship these cars by Air or Ocean to Qatar. For one car, it will be shipped by 20 footer container and for more than one car, you will need the 40 footer container. US General Shipping offers car shipping service to Doha, Qatar either via Air or Ocean. We offer direct flight service for shipping your Car or ATV by Air to Qatar. We also ship cars and ATV with container and with the fastest transit time to Qatar. The rate is much lower for Ocean shipping to Qatar than Air Freight when shipping cars. We ship both classic and new cars to Qatar.
Shipping Household Goods to Qatar :
Are you planning to move to Qatar? USG will help you step by step in this process and will assure that you enjoy a very smooth transportation service to Qatar. We will help you to move your cargo to Qatar by Sea or Air with the fastest transit time. USG is the reliable source when you need to ship to Qatar. To make sure if you are free of duty please check the Qatari Customs.
Shipping to US Army Bases in Qatar:
We have delivered large, small and medium cargo to Al Udeid Air Base. Once shipping cargo for the Military to Qatar it is important to have all the approval prior to avoid heavy storage charges. Port of Hamad only offer 7 days free for the cargo to be cleared and out-gated. All the ports in Qatar is controlled by Qatar Port Management ( Mwani ) and the port charges are the highest in the Middle East. It is important to have the Tax Exemption letter in hand prior to shipping or 15 days before the arrival of the cargo to Qatar.
 الشحن من امريكا الى دولة قطر و بالعكس
خبرة في شحن العفش و السيارات الفاخرة و دباب الصحراء
الى جميع موانئ و مطارات قطر
نشحن من الباب الى الباب الى الدوحة الخور الوكرة الريان ام صلال الضعاين و الشمال