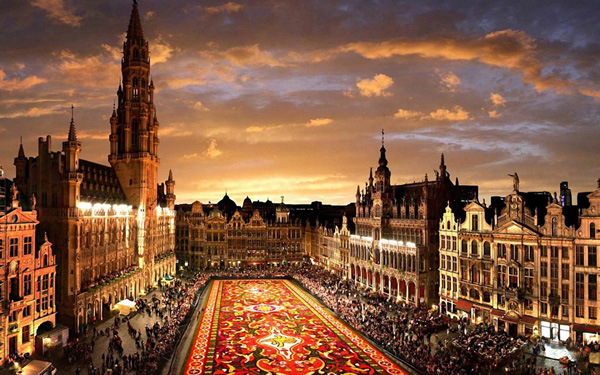 Shipping to Belgium from USA
The next time you need to ship a car, container or package to Belgium from USA, choose the experts in overseas transport: USG Shipping. When you reach out to us for a quote, be sure to have your pick-up place, destination and the type of goods handy.  With the full details, we must get back to you for a fast, correct estimate. Counting on the knowledge of USG Shipping is wise, as we can address all your needs about low-cost shipping overseas to Belgium. As the premier provider of container shipments of all kinds and sizes, we will ship your package via air freight to Belgium. It's our pleasure to pick up your shipment anywhere in the USA or Canada and send it to Belgium safely and efficiently. That's because we are your go-to provider for convenient air freight shipping to Belgium and container shipping to Belgium. Our ability lies in exporting anything from multi-container shipments to smaller packages. In addition to containers and packages, we also ship cars to Belgium featuring attention to detail and affordable pricing. As a result, USG Shipping makes air freight and ocean shipping stress-free. For FAST pricing and a response from us within an hour, complete the quote form today to get started.
Ocean cargo shipping to Belgium: USG offers cheap shipping to Belgium for a  full container load. The cost for shipping a 20 or 40 feet container from any port in the east coats varies between $300 to $800 and transit time for delivery to Belgium is less than 2 weeks from New York or New Jersey!  To have a complete cost for container shipping from USA, we need to know the commodity, origin zip code, size of the container and any other extra service that may need.  The cargo gets loaded in the container either at your personal or designated place and it will be railed or land transported to the nearest port.
Shipping cost to Belgium for the car: There are options to ship cars either via roll-on roll-off or container. Whether you need to ship a classic car, bike or RV all possibilities are available. Price for car grand transportation and Ocean Freight car shipping via ro-ro to Antwerp, Belgium :
| | | | |
| --- | --- | --- | --- |
| Origin | Ground Transportation | Ocean Freight  | Transit time |
| Phoenix | $800 | $1200 | 26 to 32 days |
| Denver | $600 | $1200 | 26 to32 days |
| Dallas | $300 | $1200 | 22 to 28 days |
| Charlotte | $300 | $600 | 10 to 18 days |
| Chicago | $600 | $600 | 14 to 24 days |
Cost  for shipping car to Belgium loaded in the container from USA
| | | | |
| --- | --- | --- | --- |
| Loading dock | Number of Cars | All IN RATE | Transit time |
| Los Angeles | 3 | $3900 | 36 to 42 days |
| Houston | 3 | $2850 | 26 to32 days |
| Miami | 2 | $1950 | 15 to 18 days |
As one of the shipping leaders in the industry, we offer service for all types of cargo to Belgium, including cars. USG Shipping offers full container, consolidation and air freight shipping service from your door in the USA or Canada to Belgium. Provide our team with your destination city and dimensions, and we will gladly quote your freight.
Belgium, a country in Western Europe, is one of the founders of the Union European. It has three official languages: French, Dutch, and German. The capital is Brussels, and Belgium boasts one of the largest transshipment ports in Europe. Like many other western European counties,  Belgium has one of the best-ranked transportation systems, especially over the rail.
Shipping to Antwerp, Belgium: The port of Antwerp is mostly automated handling containers. It is one of the most automated port in the world, Antwerp is known for all the African transshipment. Antwerp is actually considered one of the busiest ports in the world, with all of Belgium's main imports and exports going through the port of Antwerp. The port's vast size is capable of handling many options such as wide load, 20′ and 40′ containers and more. We offer freight services to the following cities in Belgium
Shipping to Brussels: It is the capital of the country and the main international airport.  For your cargo to Belgium, if it gets delivered in Brussels USG can offer air freight for smaller shipment or ocean freight for larger cargo.  We are a member of the World Freight Forwarding Group which allows us to work with local shipping companies in Belgium if you need a door delivery at destination.
Give us a call or send us an email if you need the cost for shipping from USA to Belgium!
Please follow and like us: