Shipping to Romania from USA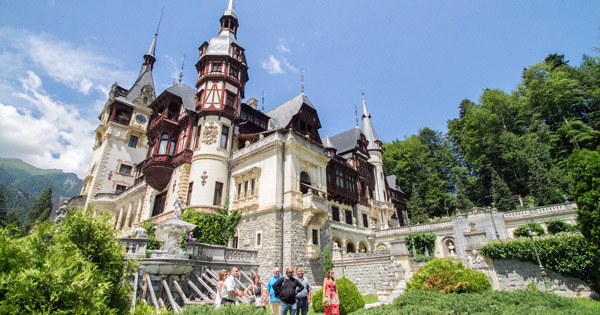 Shipping to Romania 
The next time you must ship a container, package or even a car to Romania, select the experts in overseas transport: USG Shipping. When you fill out our quote form, be sure to have your pick-up location, final destination and the type of goods ready to go. This is what we need to provide you with a fast, accurate estimate. Trust USG team when shipping from the USA to Romania.
Counting on the expertise of USG Shipping is smart, as we can address all your needs in terms of low-cost shipping overseas to Romania. As the trusted provider of container shipments of all kinds and sizes, we will gladly ship your package via air freight or ocean freight to Romania. We will show up on time to ship your package from anywhere in the USA or Canada and send it to Romania.
USG Shipping is known for making air freight and ocean shipping stress-free, offering convenient air freight shipping to Romania and container shipping to Romania. From multi-container shipments to smaller packages, we can handle whatever you need. On top of containers and packages, we also ship cars to Romania. Our attention to detail and affordable pricing are unparalleled. For a reliable air freight and ocean shipping, get started with FAST pricing when you complete the quote form request above.  we can offer you comprehensive shipping service to Constanta or transshipment to anywhere in Romania. The Romania Border Police are responsible for verifying all the import documents and release of cargo to the consignee in Romania. USG also offer shipping service to Bucharest, shipping both 20ft and 40ft containers as well as LCL cargo to Romania from anywhere in the US. USG is among the best for shipping to Romania from the USA. Please see below the locations where we offer shipping services in Romania from the US.
Shipping Containers to Romania: Container is the safest method of shipping. ZIM, MSC, Maersk, CMA and some other carriers offer weekly container shipping. All the containers when arrives in Romania first stop at Constanta and from there it will be transshipped to any other city in the country. Regardless of your cargo as long as it can be containerized we can have it shipped to Romania.  Some containers rates for the port to port are listed below:
- 20 Footer Houston to Romania: $1985
- 40 Footer Houston to Romania: $2385
Car Shipping to Romania: There are some restrictions for shipping cars to Romania but for the most part you can ship any cars and if you are Romanian citizen living overseas for few years, your car may be eligible for free duty clearance. 
Shipping to Bucharest:  Bucharest does not have a seaport but has a very large customs yard where carriers can transport their containers using bonded truckers. This allows consignees to clear the customs in Bucharest, so if your final destination is in Bucharest or nearby, there is no need to ask for any other quote. We can ship your cargo directly to the customs yard in the capital.
Shipping to Constanta: One of the oldest town in Europe, the name of Constanta has Turkish, Greek and Bulgarian background.  Since Constanta is the main port of entry, all the carriers offer service to this port.  Once the container arrives at Constanta, it can either cleared there or transship to any customs yard using a bonded truck.  Other than Constanta there is some limited service to Galati!  
Air cargo to Romania: USG Shipping Line also offers air freight shipping to the Bucharest International Airport. We can pick up your boxes or packages from any location in the US or Canada and ship them with the next available flight to Bucharest. Please contact one of our team members for rates, bookings, and inquiries for the ocean and air freight. If you are shipping boxes to Romania using USPS please check our Fedex rate which is 75% discounted.  The transit time is 5 to 8  days and you can track your cargo upon pick up.  We don't guaranty to be the cheapest moving and shipping company to Romania but USG assures that job gets done. 
Shipping personal items to Romania from USA:  Relocation is always challenging especially if you are moving to another country. Hiring the right relocation company helping you with shipping your personal items from the US is very crucial. With a specialized team with years of experience in this industry, USG will make sure to handle your moving to Romania smoothly. 
About Romania
Romania, a country in Southeast and Central Europe, is bordered by the Black Sea, Hungary, Serbia, Ukraine, Moldova, and Bulgaria. Bucharest is Romania's capital and the largest city in the country, located in the southeast of Romania. The country's main port cities are Constanta and Galati.
More than half of the imports and exports in Romania are by the sea. The Port of Constanta is the largest port in the Black Sea and it is one of the busiest ports in Europe. Other ports include the Port of Galati, located on the Danube River.
Fill out our online form now for a free, fast quote on shipping overseas to Romania.