Shipping to Senegal from USA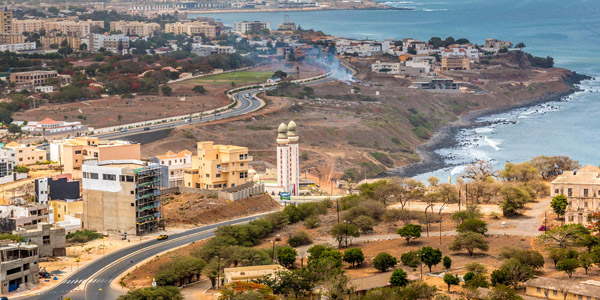 The Republic of Senegal, is a country in West Africa.  This west African country is bordered by Guinea-Bissau to the southwest, Guinea to the southeast, Mali to the east, and Mauritania in the north.  It also shares boundary with The Gambia, a country that is on a narrow parcel of land along the edge of the Gambia River, which splits Senegal's southern region of Casamance from the rest of the country.  Senegal also shares a maritime border with Cape Verde.  The name "Senegal" comes from Wolof (language of region) "Sunuu Gaal", which means "Our Boat".
Dakar is the capital of the country and the port of entry for all the Ocean Freight Containers.  Port of Dakar is also used for shipping to Bamako Mali.
Our bi-lingual sales associates can help you with all of your questions for shipping your container or boxes from any location in the USA or Canada to Senegal.  Dakar is one of the largest Sea-Port in West Africa.  The annual freight traffic is approximately 10 metric tons.  The import duties in Senegal range from 15% to 20% value added tax, 1% statistical tax, and an extra 1% for community solidarity levy.  Some products are subject to extra taxes; some of those industries include Agriculture, Industrial Equipment, Livestock, and some Fishing products are affected.  Senegal also has the national Senegal Airline which offers Airfreight services to most African countries.

Shipping to Dakar
Dakar is the largest city and capital of Senegal.  It is also contains the main Port and Airport of entry for shipping all types of fright.  US General Shipping can provide an excellent freight services to Dakar, Senegal; via East or West Coast.  Our Services for Dakar in Senegal are:
Shipping Containers to Dakar,  Senegal

Shipping Cars to Dakar,  Senegal

Shipping Boxes to Dakar, Senegal

Shipping commercial products to Dakar,  Senegal 

Shipping HHG/Furniture to Dakar, Senegal 

Shipping automotive parts and machinery parts to Dakar,  Senegal 

Shipping Heavy machinery to Dakar, Senegal 
Air Freight to Senegal
Leopold Sedar Senghor international airport, located in the busy capital, was due to close in 2017 and news outlets have indicated that it will be turned over to Senegal's military.  Most major commercial airlines; including Delta, Royal Air Maroc, TAP, and others have confirmed that they will also switch over as well.  The Airport International Blaise-Diagne, in Dakar, will become the main and largest Airport of the country.
At US General Shipping , we offer both door-to-door and door-to-air shipping to Senegal.  Ask for our best rates and services for shipping your cargo to Senegal.
Ocean freight for heavy machinery and oversize cargo to Dakar, Senegal 
We currently offer specialized RoRo service from the port of Baltimore, Galveston, Providence, and Jacksonville in USA to Dakar Senegal. Depending on the size and your need, we can also handle your heavy machinery shipping by 40'HC container by dismantling method. At US General shipping we'll always provide you with multiple options for shipping (RoRo) or Container, that way you can decide what best suits your needs. Our network of domestic transporters who are specialized in handling heavy machinery loads can move your machine and oversize items from any dealer or auctions to the nearest warehouse or port.
Air Freight , small boxes, and express shipments 
Regardless of your location in USA we can provide door pick up for all air freight cargo, small boxes, and express shipments. We have weekly cargo flights from most major airports in US to Leopold Sedar Senghor International Airport for all of your freight shipments. If your personal or commercial shipments does not meet the freight criteria we will handle those shipments as small box express shipments with our discounted account with FedEx and DHL. Depending on the destination city, we are able to provide complete door to door move for small express packages/boxes. We also provide dedicated express shipments to clients who are abroad and wish to purchase products in USA for shipping to their respective countries. 
Common export commodities and products from USA to Senegal (2017)
Mineral fuels export from USA to Dakar, Senegal ($24 million) 

Vehicles export from USA to Dakar, Senegal ($37 million ) 

Machinery export from USA to Dakar, Senegal ($28 million) 

Plastics export from USA to Dakar , Senegal ($18 million) 

Cereals and wheat export from USA to Dakar, Senegal ($12 million) 

Rice export from USA to Dakar, Senegal ($9 million) 

Soybean oil export from USA to Dakar, Senegal ($4 million ) 

Prepared food and fresh vegetables export from USA to Dakar, Senegal ($1.3 million) 
If you're interested in our optimal shipping service and rates from USA to Dakar, Senegal, feel free to contact us and one of our experienced professional will gladly assist you!