Shipping to Cameroon from USA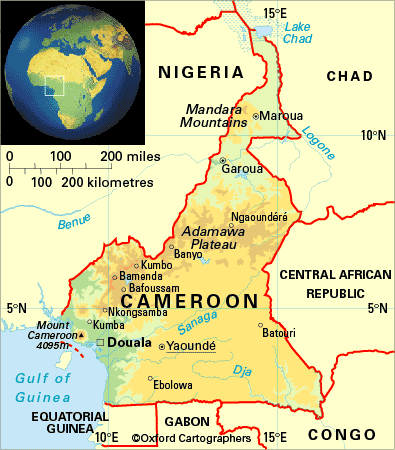 There are many companies offering  rate for shipping to Cameroon but  USG shipping service to Cameroon is very dedicated and specialized. The country of Cameroon which is officially the Republic of Cameroon is located in Central Africa.  Nigeria is Cameroon's neighbor from to the west and north; Chad to the northeast; the Central African Republic to the east; and Equatorial Guinea, Gabon and the Republic of the Congo to the south.  Cameroon's coastline lies on the Bight of Biafra, which is also part of the Gulf of Guinea and the Atlantic Ocean.Cameroon, population is approximately 24.4 million people with French, English, & Pidgin and the 3 main languages spoken; however there are 250 spoken local languages as well. 
 Cameroon Trade and  Economy : 
Cameroon exports almost double the amount of their imports.  The top exports of Cameroon are Petroleum, Cocoa Beans, Lumber, Gold, and Bananas; while their top imports include Petroleum, Electronics, and other foods.
We provide very reliable shipping services from any locations in the USA and Canada to Cameroon.  At USG Shipping Line we also have French speaking export support member  to help you with any of your communication needs and questions.
We provide full and less then container (FCL) services from your or your supplier locations, to the port of Douala in Cameroon.  USG Shipping also offer Roll-on Roll-off service for your truck, bus, auto, and construction equipment from all Houston and the ports in the US East-Coast to Douala.
The Cameroonian community in the U.S are based in the East Coast  so most of the requests are from , Baltimore, New York, Madison, Minneapolis and Charlotte.  We also have weekly service from Phoenix to Douala.
Shipping to Douala Cameroon requires the importer to have an ECTN number which is needed to enable the customs clearance in Douala. ECTN number is a mandatory regulation imposed by Cameroon customs authorities. 
Please see below the type of shipping services to Cameroon:
Shipping Cars: Car shipping via roll-on-roll-off and containerized.

Shipping Containers: USG Shipping offers 20 and 40 footer containers for shipping to Cameroon.

Shipping Boxes: We offer door-to-door services for small boxes for shipping to Cameroon.
Here is the main port of entry in Cameroon:  Shipping to Douala
 Shipping car to Cameroon :  We ship car to Cameroon either via roll on roll off or containerized.  At USG shipping we will analyze  your need prior of  handling your cargo. Regardless of the method we need to use we will make sure that is the best way to ship your car. The most common form of shipping cargo from USA to Cameroon is by containerized shipping. Whether it's a 40 Ft or 20 ft container for your move to Cameroon or a commercial shipment you can have peace of mind when we handle your cargo. We offer Door to port service for personal and commercial shipments from any location in USA & Canada. For oversize cargo such as heavy machinery and trucks we offer convenient RoRo service from Houston and major East Coast Ports to  Douala in Cameroon. In addition to RoRo shipping for heavy machinery, we also offer dismantling service for your oversize heavy machinery thus we can ship it via 40 ft container. This method reduces the overall freight cost . With US General shipping, we take pride in making sure our customers have multiple flexible options to choose their method of shipping based on their convenience and needs. 
 Air Freight , small boxes, and medium boxes shipments from US to Cameroon:  Whether you have small gifts  for relatives that you purchased from Amazon or you're sending pallets for commercial purposes, at US General shipping we offer multitude of options from Air Line cargo to FedEx / DHL courier service in order to meet your shipping needs. We ensure you have the most competitive rates and multitudes of choices to choose from. For air freight we offer door pick up from any location in US and for small boxes non airline cargo shipments we offer complete door to door service from any location in US. Door services at destination however depends on courier's discretion. 
Common export commodities and products from US to Cameroon : 
Machinery export from US to Dauala, Cameroon ($31 million) 

Iron & steel products from US to Duala, Cameroon ($15 million ) 

Plastics export from US to Duala, Cameroon ($12 million ) 

Cereals & wheat export from US to Duala, Cameroon ($12 million) 

Vehicles export from US to Duala, Cameroon ($11 million ) 

General agricultural export from US to Duala, Cameroon ($29 million)
If you're interested in moving your personal or commercial cargo please feel free to contact us and our team of professionals will gladly assist you !