Shipping to Qatar from USA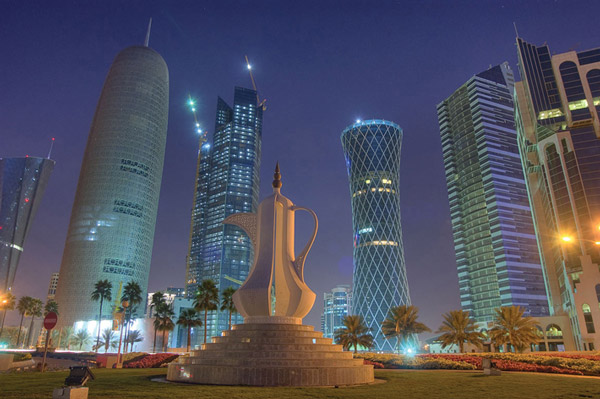 الشحن الى قطر
Qatar is an Arab Country located in Western Asia, located on the small Qatar Peninsula in the northeastern coast of the Arabian Peninsula. It shares it's only border with its neighbor Saudi Arabia in the south and it is surrounded by the Persian Gulf with the UAE, Bahrain, Kuwait, Iraq, and Iran being close by.
Shipping to Doha:
Doha which means big tree in Arabic, is the Capital and most important city in Qatar, as it is the country's center of economy.  Also, the main port and airport of entry are located in Doha.  USG has weekly schedules for shipping to Qatar from the US and we also offer consolidation services to Doha as well.  Our rate for consolidation is based on the volume of your shipments.  Our shipping services to Doha also include Roll on Roll off (Ro-Ro) and Over-sized Cargo.
Please send us your request by email and one of our agents will provide you a quote according to your needs.  The shipping rates to Qatar depend on both the volume and origin of your shipment in the US port,
Please see our rates for Roll-on-Roll-off from the West Coast to Doha:
Mid-size Vehicle: $1495
SUV: $1895 
Air Freight to Qatar:
The International Airports in Doha are located off the water and it is the only commercial Airport in the country.  Some fun facts regarding Doha International Airport; (IAT:DOH) contains 60 check-in counters, designed for processing 50 million passengers annually, and is the ninth largest airport in the world.
We offer a daily air freight service to Qatar either via Qatar Airways or other International Airlines.  We will coordinate the pickup of your cargo from any location in the United States or Canada and deliver it to the International Airport in Qatar.  If needed, we can also arrange door delivery in Qatar, for commercial items only.
Air freight to Doha (International Airport)
Daily Direct Flights
 Shipping ATV by Air 
Special World Cup:
Due to the upcoming World Cup in Qatar and all the ongoing construction projects, USG Shipping offers special rate for any shipping request related to this project.
Shipping Car to Qatar:
There are many ATVs, Classic, and Luxury Cars that are shipped to Qatar.  We can ship these types of cars by both Air or Ocean to Qatar.  If you are shipping only one car, it will be shipped by 20-footer container and if you have more than one car; you'll need the a 40-footer container.  US General Shipping offers services to ship your autos to Doha, Qatar either via Air or Ocean.
We can offer direct flight services for shipping your Car or ATV via Air to Qatar.  We also ship Cars and ATVs using containers and with the fastest transit time to Qatar.
Please note, the rates are much lower for ocean shipments to Qatar than Air Freight when shipping cars.  We ship both classic and new cars to Qatar.
Shipping Household Goods to Qatar :
Are you planning to move to Qatar?  USG can help you with the step-by-step in this process and will confirm that you enjoy a very smooth transportation service to Qatar.  We will help you move your cargo to Qatar by Sea or Air with the fastest transit times.  USG is a reliable source when you need to ship to Qatar.  We encourage you to make sure your cargo is free of duty by checking with the Qatari Customs before you ship.
Boat, jetski, and motorcycle shipping from US to Qatar: 
One of our most popular shipping services to Qatar consist of ATVs , Boats, and Jetskis. Whether you have purchased a Yamaha 242 S , the latest jetski, or motorcycle we can handle your shipment with ease and efficiency . Our professional loaders have years of experience in packing boats and jet skis  in containers. They are equally experience in crating motorcycles and jet skis for air freight. Our in house experts will treat your cargo with utmost care and handle as if the cargo is ours. We understand, when it comes to shipping success is in safety and time.  When shipping with US General Shipping you can have that peace of mind! 
Specialized Import Vehicle service from Qatar: 
We are one of the few companies that provide specialized service for import vehicles from Qatar to USA. If your vehicle is GCC spec it will not be permitted to drive in US without a special permit from EPA. We provide an one stop solution for GCC specs car for those of you who plan to bring your car along with you for vacation. As soon as the cargo arrives to US port or Airport we handle the customs entry, cover EPA / DOT regulations and necessary paperwork to give you that permit for 1 year to enjoy your vacation and your car ! 
We understand that import regulations and Customs Inspection can be quite scary especially with their hefty inspection fees. That is why we take pride in providing one stop solution for our hassle free import service in a timely matter, so risk of Customs inspection is minimized as much as possible. 
Small boxes shipments to Qatar: 
We understand that many of you automobile enthusiast are sometimes need of parts and accessories that you can't wait over a month to receive! To make it convenience for our valued customers we provide hassle free small package shipments to Qatar. Whether you're purchasing rims and wheels, automotive, parts, kitchenware and gifts you may simply ship them to our address and upon receiving the complete shipment we can process the shipment immediately for 4-5 days air freight via DHL and FedEx . For larger shipments, we'll move your cargo through airline cargo services. Our rates for small packages are among the most competitive in the market. 
Give us a try for your next shipment! 
Shipping to US Army Bases in Qatar:
USG has delivered large, medium, and small cargo to Al Udeid Air Base.  Once shipping cargo for the Military to Qatar, it is important to ensure you have all the necessary approval documentation prior to shipping, to avoid heavy storage charges while your cargo is getting cleared.  The Port of Hamad only offer 7 days free for incoming cargo, to be cleared and out-gated, before charges start to accumulate.  All the ports in Qatar are controlled by the Qatar Port Management (Mwani) and the port charges are some of the highest in the Middle East.  It is important to have your Tax Exemption letter in hand prior to shipping or 15 days before the arrival of the cargo to Qatar.
 الشحن من امريكا الى دولة قطر و بالعكس
خبرة في شحن العفش و السيارات الفاخرة و دباب الصحراء
الى جميع موانئ و مطارات قطر
نشحن من الباب الى الباب الى الدوحة الخور الوكرة الريان ام صلال الضعاين و الشمال