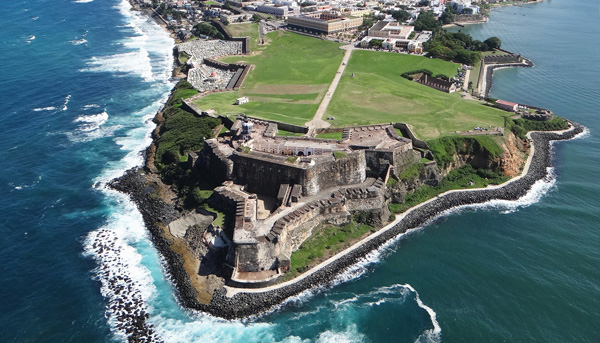 If you are searching for seamless overseas shipping to Puerto Rico that won't break the bank, entrust your goods to USG Shipping. We offer both air freight shipping to Puerto Rico or container shipping to Puerto Rico, picking up your shipment anywhere in the USA or Canada. Rest assured, you will enjoy the safe delivery of your container to the specified destination within a timely manner.
To receive a quote on your container shipments of all types and sizes, including household goods and vehicles, you will need to provide information such as pick-up location in USA or Canada, type of goods you are shipping, and the final destination for the package. This is the simplest way to provide you with an accurate estimate in terms of your overseas shipping needs. Allow us to be your first choice when you need a shipment of anything from multi-container shipments to smaller packages. Enjoy unmatched levels of service, competitive rates, and friendly staff.
Why not begin your journey now? Just fill out our short quote form for FAST pricing, with a response from us in under an hour.
About Puerto Rico
Puerto Rico, an unincorporated territory of the USA, is an island located in the Northeastern Caribbean Sea. The main port of entry is also the capital: San Juan. With a population of around 3.6 million people throughout the four islands, this territory is home to two large ports: Puerto Nuevo and Port of San Juan. Shipping to Puerto Rico is a simple process when using an experienced shipping line like USG. We can help you step by step on moving your freight to Puerto Rico.
Puerto Nuevo is exclusively used for freight/cargo ships and is the principal port of the island. The Port of Ponce and the Port of Mayaguez both handle the country's freight and cargo as well. The majority of these ports contain warehouses facilities, transit sheds, parking facilities, and other facilities that ensure safe transit of your cargo. Puerto Nuevo has many options for your special cargo needs, with many handling options available such as bulk cargo and gangway equipment for loading and unloading your Roll on/Roll off (RoRo).
Contact us for special rates for RoRo services to Puerto Rico. Our team can offer transshipment service to any major city throughout the country.
Air freight to any major airport is also offered here at USG, where we can ship large cargo via air for your time-sensitive cargo to Puerto Rico. We offer a door to the airport and door-to-door service using major cargo airlines.
Import – Export Procedure
U.S. Customs laws apply to Puerto Rico. As such, all goods for import must be reported to the U.S. Customs Services (Customs and Border Protection – CBP) to ensure compliance with U.S. law. All cargo could be subject to inspection. The classification of the goods is in accordance with the category in the American Customs Systems, and its value must be determined. When shipping to or from Puerto Rico, please follow all the rules of U.S. Customs and Border Protection.
Customs Duties and Taxes on Imports: Average Customs Duty (Excluding Agricultural Products) is 2.8%.
Contact us for a quote today on your overseas shipping to Puerto Rico!
Please follow and like us: