Shipping to New Zealand from the US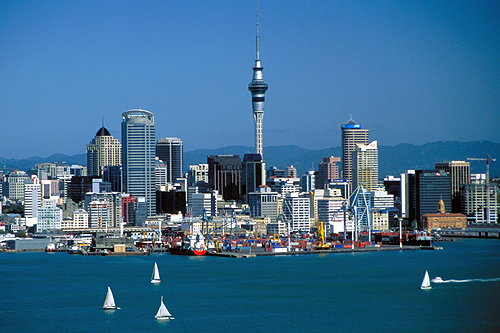 Shipping to New Zealand 
If you are in the process for shipping your cargo to New Zealand, you should speak to USG. Specialized and expert in handling any type of shipment to New Zealand, we make sure that your items reach the destination within your expected time. Our shipping service to NZ includes Air or Ocean. We also provide expedited door to door service. With a team of expert in the shipping industry, USG team is dedicated on the transparency and we make sure to answer all your questions related to the shipping and customs prior to jumping to a confirmation. Let's make sure your shipment when reaches to the Port or Airport in New Zealand do not meet any difficulty for clearance before giving us a go on the pickup!
 We can ship your commercial cargo, classic cars, bikes, boats, and household goods via Air or Ocean to all the major cities in New Zealand. We offer Ocean Freight services to New Zealand. We can also ship both 20ft & 40ft Containers or your LCL Cargo to New Zealand from anywhere in the US. Customers can either load the containers on their own, or alternatively, they can assign us to do the loading for them. The Container loading fee will be charged depending on the amount of Cargo to be loaded. The Container will depart from the US within 7 days from the day of loading. Please contact a member of our team for rates, bookings, and inquiries.
Shipping to NZ via Air: USG Shipping Line offer Airfreight service to all the main Airports in New Zealand. We can pick up your cargo from any locations in the US and ship them to the nearest airports or to your final destination in New Zealand. We also have door-to-door service in New Zealand. Get a quote today on your air freight simply by providing the weight & dimensions of the cargo, and your zip code in the US and your postcode in New Zealand. We will provide you with a low quote on your shipment to New Zealand. In daily bases, USG offer airfreight to AKL, Wellington Airport, Christchurch Airport or CHC, Queenstown Airport or Dunedin Airport.  If you only ship a few boxes, we offer courier service and can provide door to door service with 75% discounted rate.  
 Contact us today on inquiries & bookings to New Zealand.
Shipping to NZ via Ocean: There are few different types of Ocean Freight to New Zealand. The most common one is containerized shipping if you need a full 20, 40-footer container. The type of containers could be regular, high cube, refrigerated or flat rack and here at USG we can provide whichever is the most convenient for your cargo. Shipping to New Zealand is an easy challenge once you are very well aware of all the import regulations in advance. 
Shipping to - Auckland 
We also offer shipping to Dunedin, Lyttelton, Tauranga, and Wellington
 About New Zealand
New Zealand is a beautiful island in the southwestern of the Pacific Ocean. Located near the islands of Fiji, New Caledonia, and Tonga.  It is the second largest in the Pacific Ocean as far as size and population after Australia. A Country highly ranked as far as quality of life, personal and economic freedom, education, transparency and many other items measured in human development. The country has a very independent economy mainly in Agriculture, and almost 60% of the export from New Zealand are food related items.  The US is the third economy partner of New Zealand after China and Australia with a share of 11% in both import and export. The main commodities shipping from the US to New Zealand are machinery, vehicle and medical device. The USA is mainly importing food items from New Zealand.  
Import Regulation to NZ:  With a fully transparent website the New Zealand Customs Service answer to most of your questions related to the import regulation. Please make sure to visit them at New Zealand Customs Service. 
Food items are mostly restricted and can't be imported into NZ. Some other items require pre-approval. Please always make sure that you have done all the research and fully aware of the regulation prior to shipping to New Zealand.