eqShipping Containers overseas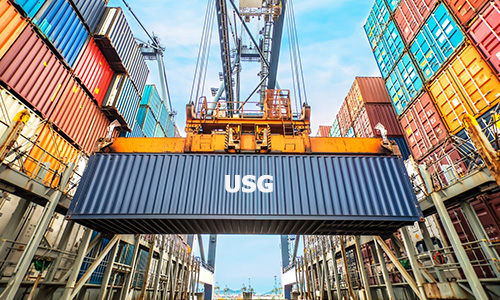 Shipping Containers Overseas 
As much as challenging and complicated it may sound, shipping a container overseas could be a very simple and easy process. It is important to not take any chance and make sure everything is being verified as far as rules and regulation the container can be shipped from any US port to overseas without facing any problem! You are at the right place here, if searching for a container shipping company specialized in the shipping container to overseas. USG has over 10 contracts with all the major Container Shipping Lines and can cover any shipment from the US to any port in the world. 
Containerization is a 
freight transport system
using containers, it`s called also shipping containers made of steel. These containers can be loaded and unloaded and can be stacked and transported over long distances with the different mode of transportation as a container ship, rail transport, and by trucks, trailer without open it. The Container is handled by a mechanized system with cranes and forklift trucks, All of these containers are numbered and tracked using computerized systems.
Container's types and sizes :
There are a lot of types of
shipping containers
the global containerized freight transport system. They are used to store and move materials and products, the container can be moved from one mode of transport to another(from the ship to rail, to truck) with vary from 8 to 56 feet, and heights from 8 feet to 9 feet. This is the most types of containers:
20 Containers
40 Containers
40 High Cube Containers
45 High Cube Containers
They are another type of containers like Refrigerated, Flat Rack and Open Top.
Shipping Containers Overseas Info:
Ship or watercraft transport passengers or cargo. Throughout history, water or sea transport was the most useful freight, because transport by water was the first method for moving out, and it`s way less expensive than air transportation.
This kind of transportation can be over any distance, over oceans, seas, rivers, and lakes. Ship transport or General Cargo can include packaged boxes, cases, pallets, and barrels.
US General Shipping is specialized in shipping your cargo loaded in the container to overseas. Our service includes the delivery of the container to your or your supplier's door, transportation of the container the nearest port of entry, Ocean Freight to the destination port. For some destination, we also offer the inland transport service at the destination and deliver the containers to the final destination. Usually, regular container shipping is the most economical way for international transportation. For all the container being shipped overseas, the AES (Automated Export System) needs to be filled for the US Customs observation.
The price for shipping a container to overseas may depend on the origin, destination, size of container and type of commodity. The price for shipping containers overseas is not necessarily based by the distance from point of origin to point of destination. International Shipping Containers Rates are mainly based on the traffic and volume of the carrier to the point of destination, competition, and other surcharges. Our FCL Shipping rate department is available to provide you the quote within less than 24 hours.
As one of the best shipping companies overseas, we will make sure to provide you with the most competitive price based on the services required.
For moving your own containers overseas, it is required that container being seaworthy certified. International Moving Container Shipping is not a challenge once you use a reliable company with extended knowledge and expertise.
Shipping Container Internationally
We have agents in most of the locations in the World if you need our services for shipping containers internationally. We can bring goods loaded in the containers from any locations in the World back to the USA or Canada.  If you like to have the cheapest international container shipping rates better to educate yourself on how to optimize the usage of the space inside the container.
Shipper Owned Container
As mentioned previously instead of using the container provided by the carrier you can ship your own container, however you should consider the shipper own container surcharge. Depending on the carrier, the shipper own surcharges is about $300 and that will be added to your invoice. Overseas Shipping Containers need to be seaworthy and certified.
If you need a rate for shipping a container to overseas please go to Container Shipping Quote Page and fill out the rate request.