Vehicle Shipping Services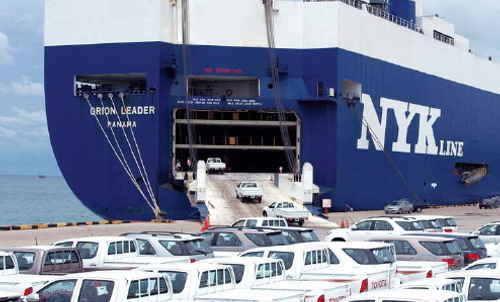 Efficient, safe and timely
shipping of automobiles
has become an important requirement in the present day and in keeping with the demand, USG Shipping Lines offers the best of automobile shipping services. The process of international automobile shipping is largely simplified owing to the efficient, straightforward and transparent services offered by this worldwide shipping company. The company possesses expertise in shipping automobiles through airways as well as through the ocean.
When you hire USG Shipping Lines to transport your automobiles, you can be assured of safety because a lot of technical expertise and safety measures go into securing the vehicle such that no damage is caused to it during transit. The expertly trained staff of the company is well equipped to brace and lock the car in place in order to ensure that the vehicle is unscathed. Our Car Shipping Services include both Air and Ocean Freight.
Besides providing an ideal atmosphere for the transit of automobiles, the company takes up the responsibility of arranging all required documentation required for transporting the vehicle. Many countries impose regulations regarding exhaust pollutants. Such details are made available to customers. Bill of Landing and all other kinds of paperwork are handled by the company so as to make the process easy and hassle free. A cover letter which includes the name of the vessel, dates of departure and arrival, address, name of customer, details of automobile and contact numbers of company agents are provided so that the automobile can easily be claimed at the destination.